Another month has gone by and here's March. I hope you are staying well and planning new activities for spring and summer. I am very excited about several items I want to share with you, such as: new Lines of Designs colorful t-shirt in small to xx-large just finished, new blouse design with several variations (also from Lines of Designs), and how to wear spring outfits when it still feels chilly.
Here's the new t-shirt I just finished in sizes Small to XXLarge. It's a gentle cowl neck with 3/4 length sleeves. It will bring a smile to your face with the happy flower collage on the soft rayon jersey material. (Buy now!)
My creative juices have been flowing! I've also designed and created a prototype of a new blouse with several variations. Here you can see my sketches and some of the fun 100% rayon materials.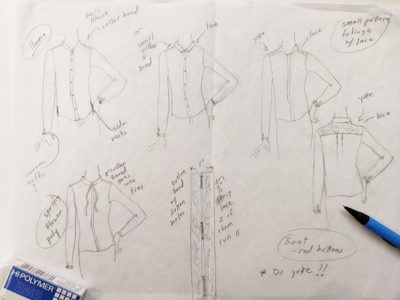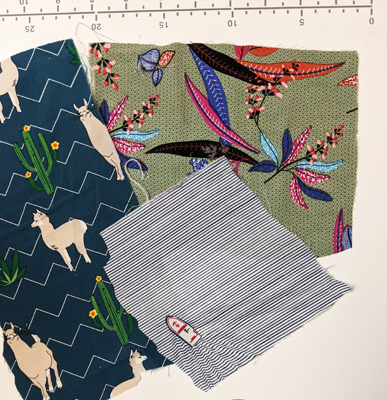 But the first one that will be sewn up is the blouse out of the spring bouquets on white. 100% poly. This material is limited and you need to let me know if you want one. I will make a few to have in the store and then I will only have enough fabric for a couple more. Very pretty for spring!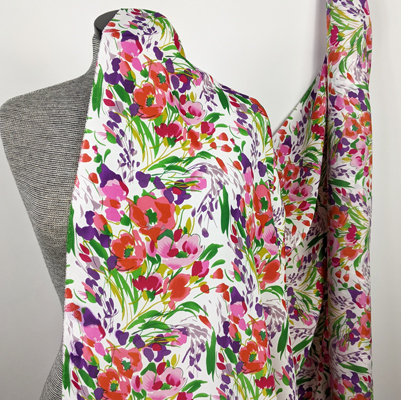 Now and Later
March has one leg in winter and is trying to reach into spring. If you are like me, I'm tired of my winter sweaters, but the air still has a bit of bite in it, and the new spring outfits are so cute! What to do? Check out the "Now & Later" pictures for ideas.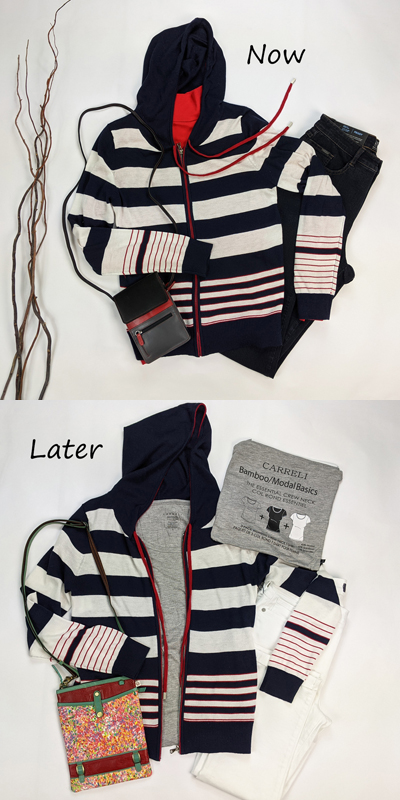 Sisters lightweight sweater hoody: keep warm with a mock neck from Necessitees, jeans by FDJ, and a leather cross-body by ILI. For later, lighten up with a tee by Carreli (3 in a bag), white capris by NYDJ, and a sustainable leather/canvas cross-body by Vaan & Co.
Inoah, made in USA, wonderful blue blossom top in a lightweight sweater knit. Stay warm buy pairing with a Necessitees mock-neck (also made in USA), FDJ pull-on ankle pants, and a great cross-body by Vaan in recycled leather. When it warms up, add a stone bead necklace and NYDJ capris. Yea Spring!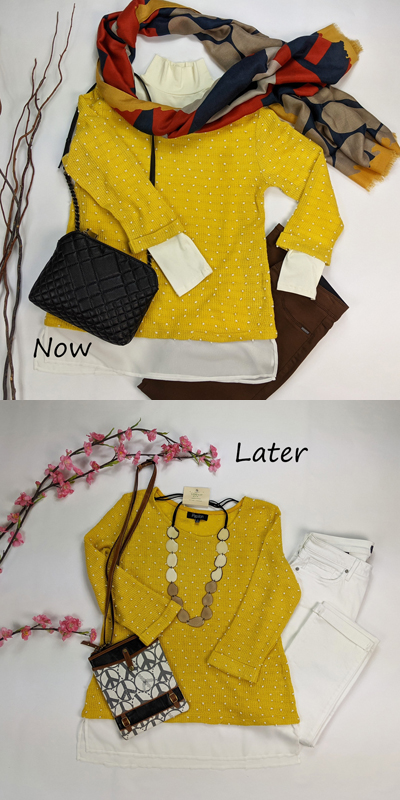 Bring in some color with a gold Papillon lightweight sweater with little dots of ivory and a flowy chiffon hem. Layer a Necessitees mock-neck and FJD ankle pants to keep warm. Add a fun scarf and Co-lab vegan leather bag to finish the look. Later, lose the mock-neck, add white NYDJ capris, fun Organic Tagua necklace, and Vaan & Co. bag.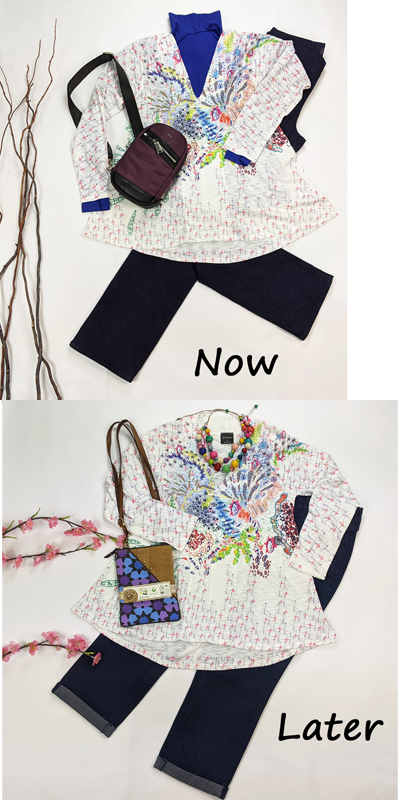 Another fun and cheery Inoah top. This time it's a light weight sweater knit with a V-neck. Now--add a Necessitees mock-neck for warmth, NYDJ pull-on jeans, and a nylon sling by Co-lab. Later--add colorful Tagua nut jewelry, NYDJ capris, and a colorful cross-body by Vaan & Co (recycled leather).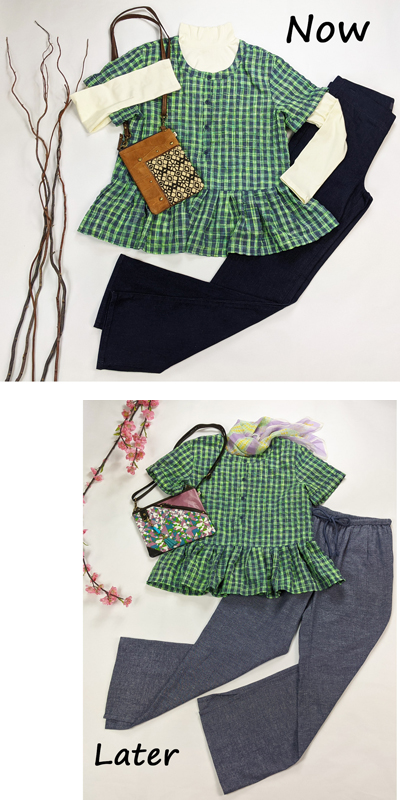 How about some green and blue seersucker in a cute peplum shirt? Now--pair with a Necessitees mock-neck, NYDJ pull-on jeans and a recycled leather cross-body by Vaan & Co. Later it's just a pretty Echo chiffon scarf, Vaan & Co cross-body bag and breezy chambray pull-ons by 209 West.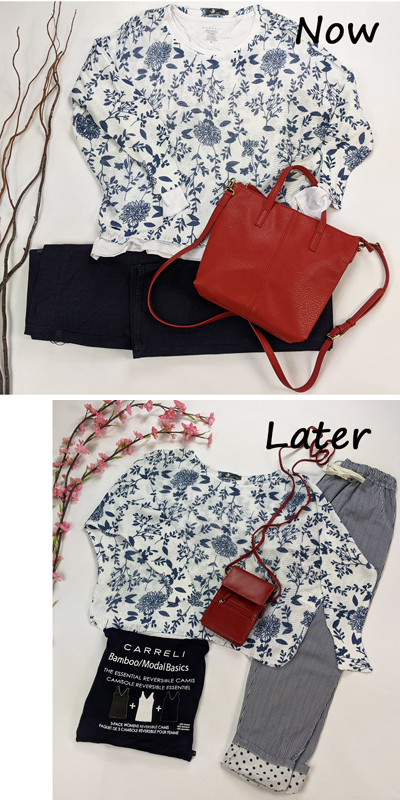 Made in Italy has a very lightweight sweater in fun indigo print. Now--pair it with a Carreli (3 in a bag) long sleeved t-shirt and pull-on NYDJ jeans. A Joy Susan tote in red gives a pop of fun. Later either wear the sweater alone or pair with a Carreli tank (3 in a bag) and the fun Made in Italy rail road stripe capris with polka dots at the hem. Ili red leather cross-body bag lets you travel light!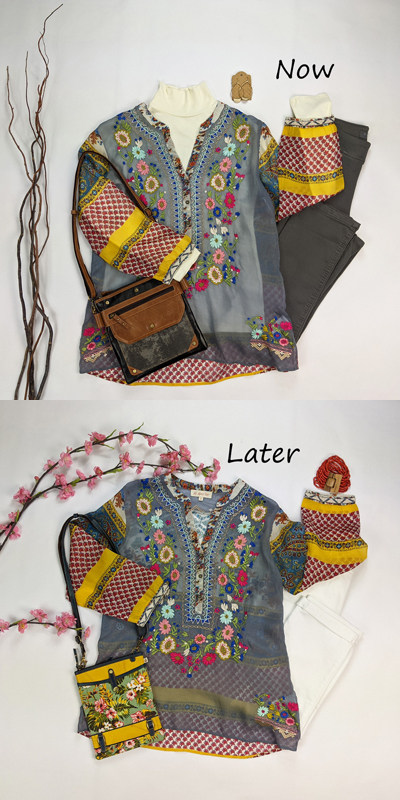 Who says you can't wear chiffon now? Just layer a mock-neck (Necessitees) underneath, pair with Carreli pull-on pants, Vaan & Co sustainable cross-body and hoops. For later it's just the chiffon (or layer over a tank), white NYDJ capris, pretty Vaan & Co cross-body, and bead bracelet.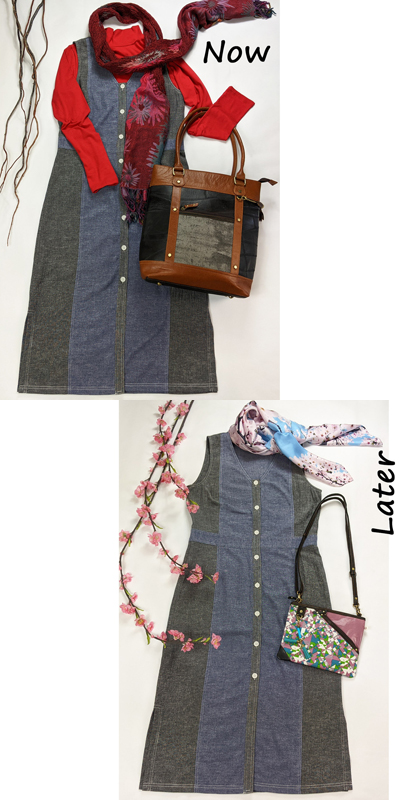 Brand new company for us, 209 West. Their fun sleeveless dress in color blocked chambray is easy to wear. Now--pair with a bright mock-neck from Necessitees, yummy scarf, and a great tote in recycled leather by Vaan & Co. Later--be breezy with a cherry blossom silk scarf by Echo and a pretty cross-body by Vaan & Co.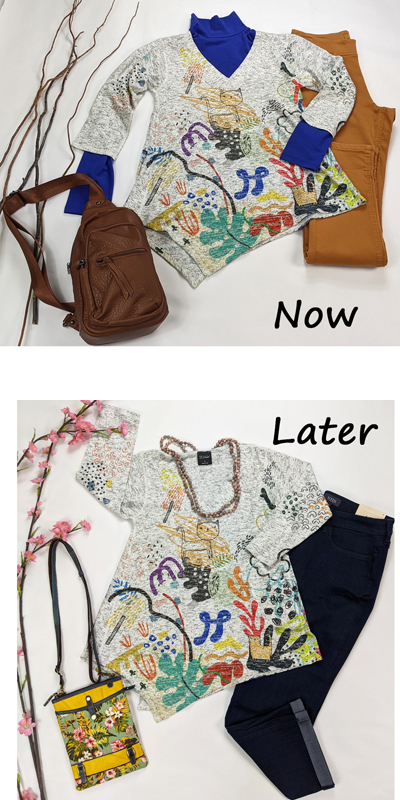 We all love Inoah, made in USA, for their wonderful prints. Here's "Kitty Kitty" with an asymmetrical hem. Make the blue pop with a Necessitees mock-neck, Carreli pull-on pants, and a vegan leather sling bag by Co-lab. For warmer days pair with NYDJ capris and a colorful cross-body by Vaan & Co.
I would love to here from you! Happy March!