Hello Spring and the rainbow of colors to replenish our souls. If you read my March blog you may have seen the sketches of the blouses I was planning to produce. Well, here is the first one! It's an all-over print, easy care polyester, shirt tail hem, with a narrow collar band ending in ties.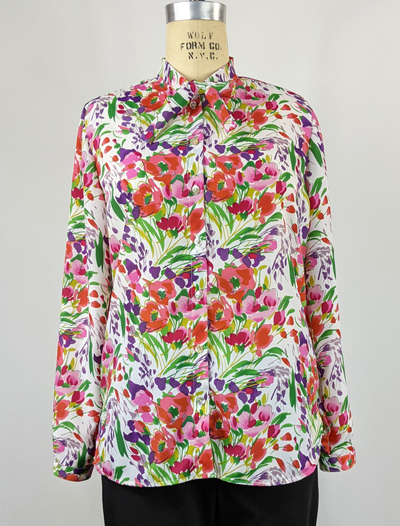 This material is very limited and I only cut an 8, 10, 12, 14. The picture is a 10 on a size 8 dress form. There is enough material for 1 more custom blouse. But coming soon are more blouses in other collar variations in the materials (rayons) I had posted in the March blog.
The slack on the dress form is also my design; it's a woven poly/rayon with stretch, straight legs, front fly and pockets.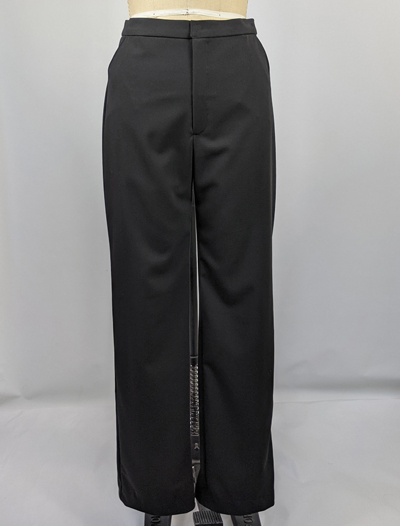 If it doesn't fit off the rack, I'll use this as a starting point to help you find a pair of slacks that fit! And I know that we have all faced that challenge!!
If you are in town on Tuesdays, drop by the shop 107 E. 2nd Street, The Dalles Oregon for Tea Tuesdays. Choose a loose leaf sample to try, choices are: black, herbal, & green. A tasty treat for Tuesdays!
As a celebration of the wonderful blossoms and fresh colors, I am offering a coupon of 20% off one item (sale items included) if you spend $50. Use coupon blossomdaze, on-line or in-store. Wonderful new arrivals of spring scarves, purses, and clothing. We are working hard to put it all up on the web for you.
Savor the glorious colors of Spring--blink and they are gone!